Maison Janneau's commitment to crafting the finest luxury wood windows is evident in every detail of our products. Using the finest materials and skilled craftsmanship, Maison Janneau creates windows that are not only aesthetically pleasing but also built to stand the test of time.
Among Maison Janneau's impressive lineup of luxury wood windows, the Tilt-and-Turn window stands out for its versatility and functionality. This window design is a popular choice in France for those seeking both style and practicality in their homes.
Key Features of the Tilt-and-Turn Window:
Dual-Functionality: The Tilt-and-Turn window offers two distinct modes of operation. In the 'tilt' position, it allows for secure ventilation while maintaining security. In the 'turn' position, it swings open wide, providing easy access and cleaning.
Energy Efficiency: We place a strong emphasis on energy efficiency. Their Tilt-and-Turn windows are designed to minimize heat loss and drafts, ensuring a comfortable living environment year-round.
Security: Security is paramount in luxury homes. These windows are equipped with robust locking mechanisms, providing peace of mind to homeowners, even when opened in 'tilt' position.
Aesthetics: Maison Janneau's Tilt-and-Turn windows are a visual delight. Crafted from premium wood, French Oak or Moabi, they offer timeless elegance that complements any interior or architectural style.
Customization: Tailor your Tilt-and-Turn windows to your exact specifications. Maison Janneau offers a range of wood finishes and hardware options to match your unique taste.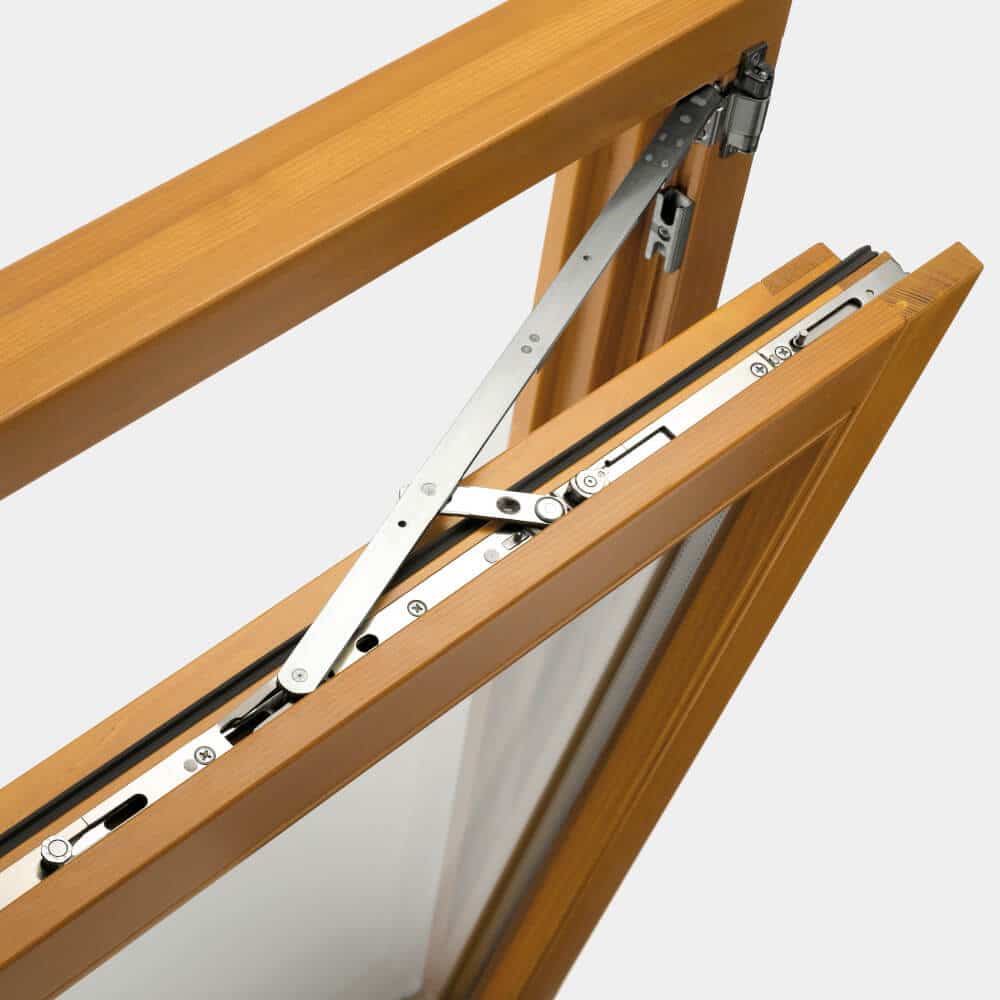 Best rooms to feature a Tilt-and-Turn window:
A tilt-and-turn window is particularly suitable for rooms in your home where clearance is restricted. They are generally installed in rooms such as bathrooms, toilets, or kitchens. Its opening system allows you to ventilate without having to open it all the way, thus preserving a certain privacy and security, depending on the configuration of your home. It's a window that's extremely comfortable to use. Our expertise enables us to offer you custom-made wood windows.
Conclusion
For homeowners who demand nothing but the best, Maison Janneau's Tilt-and-Turn windows in their wood range are the epitome of luxury. These windows seamlessly blend form and function, offering unparalleled craftsmanship and style. Elevate your living spaces with the timeless beauty and practicality of French luxury wood windows from Maison Janneau. Choose the Tilt-and-Turn window, and experience the perfect marriage of elegance and innovation.