Windows are essential to a home, whether for its construction or renovation. They offer light entry, sound protection, and natural ventilation. In overall, windows have a vital purpose and are one of the most expressive features of a building. When you need to pick a window, you see all the choices: material, color, glass, fixtures…
How to choose? Have you noticed the differences between American windows and French windows?
Let's see their distinctive features.
Steel and Wood Window Choices It All Starts with the Opening Mechanism
Windows don't open the same way in France or in the US. Single or double-hung windows are the standard in the US. Those windows feature 2 vertical sashes, and you can open one or two of the sashes by sliding them upward, downward or on the side.
In France, windows are turn-tilt. They feature 2 vertical casements, and you open the window inward. The windows swing inward from its vertical hinge, or tilt inward on its horizontal hinge.
Back to History
Double-hung windows as we know them today were developed in the United Kingdom and moved over to the United States through colonization. They originally relied on counterweights to go up and down but have since been developed to use simpler frame designs that allow the user to slide them up and down without heavy weights and pulley systems. The invention of the sash window is sometimes credited, without conclusive evidence, to Robert Hooke. These windows were less expensive and less heavy than the French windows. With the industrialization, it was easier to mass produce them.
The French windows date back to the Renaissance (15th century), largely inspired by the Italian and the architecture featuring moldings and balconies. As French architecture evolved from Roman, Gothic, Baroque to Renaissance, windows became part of the building aesthetic, involving a lot of craftsmanship: carpenter, metalworker, glassblower… The French made some additions with mullions and the "gueule de loup" type of opening mechanism.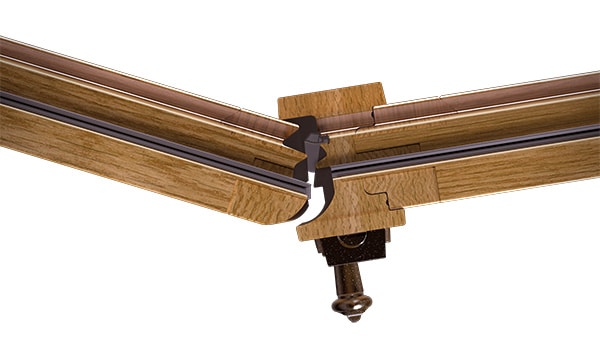 Criteria Design and fixtures
French windows are done differently from the American windows because of the energy criteria. From fuel to electricity, energy is much more expensive in Europe than in America. And for that reason, European homeowners usually ensure their homes are as energy efficient as possible.
Building creation is also a cultural thing. Constructions are made to last in Europe, when in the US the main objective is to be practical.
As French windows carry more fixtures, there are more choices: choice of opening and opening mechanisms, and choice of handles.
Pour Conclure
Once you've decided to investigate windows for your construction or renovation project, you will find a large selection of choices. Make your own list of criteria and most importantly, think about the fact that windows are much more than a home/building essential.
It goes beyond the simple product that is part of your façade. It dresses your exterior and your interior, it brings light into your home, it ensures security and visibility into the world. See the options you can have with Maison Janneau products.